The Los Angeles Clippers won 56 games and their first Pacific Division title in the regular season.
Postseason play produced only two wins before losing four straight and elimination to the Memphis Grizzlies.
Not quite the conclusion the little brother in Los Angeles expected. More importantly, Chris Paul becomes are free agent July 1st and the early ousting may affect his decision to stay or leave.
Here are some quotes from his exit interview (VIDEO: Complete Version) on Saturday May 4th:
A long, great season hits a brick wall:
"I have nothing to do, this is unreal, like I had no idea this season would be over…we only played two weeks longer than everybody else who didn't make the playoffs. It sucks."
You recruited players last summer, will they (LA Clippers) now be recruiting you?
"I don't know…we'll see, we'll see. I don't know how this whole thing's gonna go or play out. I'm gonna pray about it."
Asked to compare the 17-win streak in December and the playoffs:
"December and May, they don't go together…at all."
What does 'built for the playoffs' mean to you:
"Built for the playoffs means you have to have a little bit of everything. You have to have shooting, defense…all that different stuff."
Whether it's difficult or not to watch the rest of the playoffs:
"Yeah. No question…and I watch ESPN, SportsCenter all day…everyday, but not now."
On liking LA, West Coast guy now? Part of the equation for you, family?
"Did I like it, yeah I liked. I loved it out here – Of course, if everybody hated it…you know what I mean? My family is very easy going, what's not to like. It's far away from home, but fortunately I've been blessed to be in a situation where my parents, my wife's parents and my family we always got people in town."
Paul talks about taking his time to decide on his future in what will be his first true all-out free agency frenzy. A Clippers return on a 5-year max contract worth $107 million appears the probable route.
However, since CP3 isn't ready to make an official announcement nor should he prior to the July 1st free agent floodgates, we can take some time to at least consider other options for the NBA's best point guard – with focus on our Dallas Mavericks.
_____________________
Once upon a time Chris Paul was ready to be a Dallas Maverick. Reported early in the 2012-2013 season by CBSSports' Matt Moore which originally derived from Yahoo! Sports NBA writer Marc Spears' article titled 'What stopped Dwight Howard and Chris Paul from playing together as Dallas Mavericks?'.
Inside you'll understand that this idea spanned over a couple years and would have involved the cooperation from BOTH Paul and then Orlando Magic center Dwight Howard. Howard's indecisiveness deflated the opportunity to join forces at that point.
If I take anything away from their failed execution to partner up, it's the fact that Paul was ready to work for Mark Cuban and the Mavs organization just last summer. Events didn't materialize then, but now Paul (and Howard) are on the brink of becoming unrestricted FA a year later.
Dallas or any team with cap space could only offer Paul a 4-year max contract worth about $80 million. On the surface that's a glaring disadvantage, but in reality with some mathematical breakdown of all known money/tax details involved the numbers aren't far off.
This with the thought process that Paul or Howard would both try for one last max deal which involves them opting out of a fifth year with their respective Los Angeles squad. At that point Paul will be 32 years-old and Howard 31.
For more in-depth coverage on this check out the material from Mike Fisher and David Lord at DallasBasketball.com or this article (Dollar Differences) by Tim MacMahon on ESPN Dallas.
A section in Moore's report on CBSSports from November 2012 intrigues as it relates to the current situation:
 - Dallas continues to be the "almost but not quite" destination for superstars, and it leaves them both in the running for Paul and Howard in 2013 should their stints with their respective teams go catastrophically wrong, and still huge underdogs despite being really the only other team on the board.
Catastrophically wrong? Both Paul and Howard were ejected in their final games of the season. Howard used 'nightmare' to describe his lone year as a Laker, while CP3 was clearly not satisfied playing only six more games than non-playoff teams.
In other words, neither concluded their seasons with a fairy tale ending.
Dallas may not have the most attractive roster to alone lure Paul away from his highlight reel big men Blake Griffin and DeAndre Jordan. The Mavs have veterans in Dirk Nowitzki, Shawn Marion and Vince Carter, but the Clippers have some too in Caron Butler, Jamal Crawford and Chauncey Billups.
The Mavs do have positives in their favor.
Mark Cuban – Owner with unmatched passion for his team, savvy and involved.
Donnie Nelson – GM that's advantageous, bold and beyond diligent in his work to always make the Mavs better.
Rick Carlisle – An upper-echelon coach in the league today. Respect. Relentless to get the most of his players.
Dirk Nowitzki – He's going to be 35, we know, but let's get that out of the way. Dirk's work ethic combined with his unique style of play should grant him three or four more solid years in his legendary career, a couple still at an elite level. Dirk isn't Blake, but more importantly Blake isn't Dirk. 41 is an accomplished player, future first ballot Hall of Famer and NBA champion – a winner.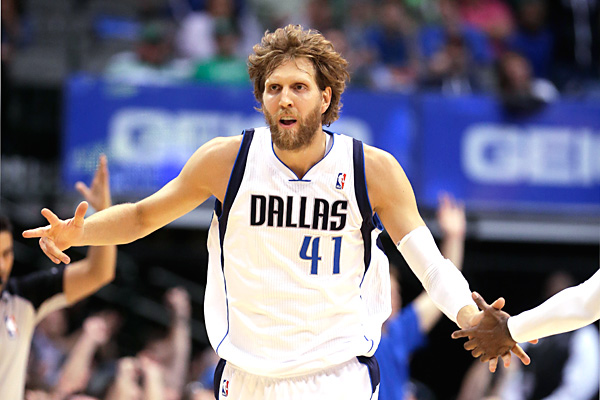 It's not fair to say Paul has the best shot at winning a title with Dirk and the Mavs, because a player of CP3′s caliber could go to most teams and morph them into title contenders.
The point here is more about visualizing his short-list options IF he surprised people and decided to move on from the Clippers. On that list you probably have Dallas, Atlanta and Houston.
Each has its reasons to attract Paul. I already went over Dallas, but what about the Hawks and Rockets?
With the Houston Rockets, you envision CP3 merging into an already rich environment of untapped youth potential and a superstar in the making – James Harden. Chandler Parsons elevated his game this season which would provide Paul with two sweet treats on the wing. Houston has always wanted Dwight Howard and may be able to entertain the idea of Paul and Howard finally joining forces as Rockets.
Atlanta owns plenty cap space to sign both Paul and Howard, similar to the Rockets. They have their own star free agent in Josh Smith who isn't sure about his future either. The Hawks would LOVE to sign Chris Paul, the point guard they passed on in 2005, drafting Marvin Williams instead. Paul running the show with Al Horford, a re-signed Josh Smith and other solid free agents has appeal.
It all comes back to the Mavs and playing alongside Dirk though. Chris knows something when it comes to German father-to-be…
He is a problem, Chris. Now imagine Paul and Dirk working pick and roll/pop. Dirk and Terry had formed themselves into quite the impressive two-man game, but it would not compare to the deadly duo of 3 and 41.
One thing you see in Chris Paul – he's hungry. Paul wants to win more than anything and at 28 the time in now. It's safe to say that realistically looking at the options available to him, Paul cannot join a better superstar than Dirk in this moment.
James Harden exploded this season and is on the verge of superstar status, but Dirk is still the better option and fit. Dwight Howard and Paul would be fun to watch and it could happen, in what city though? Not LA. After those two, no one is close to Dirk's level.
All in all, we must continue to wait this process out until the new season officially begins on the first of July. We already know Mark, Donnie and staff are in the battle room devising multiple plans and scenarios, prepping for what they would like to be the best summer in Mavericks history (2011 was pretty good, Champs!).
It starts with Chris Paul.
_____________________
Feel free to comment with your thoughts and questions!
Follow and contact me on Twitter @thedfactor and @TheMavsFanatic